Readwells Learn Tamil in a Month
Easy Method of Learning Tamil Through English Without a Teacher by S. Krishnamurthi - Paperback

Knowing a language is knowing the people of that language group, because a language is more than a medium of communication. Language organizes thoughts, colors thinking and reflects historical forces that shape the social and moral values. Tamil is an ancient language and was well-developed even before the second century B.C. To this day it retains its unique charm.

The author considers the difficulty a beginner may face learning a phonetic langauge and gives special care instructing the accurate pronunciation of today's Tamil.


Published 2001.

[Book prices are posted within the shopping cart site due to frequent fluctuating prices. Sorry for any inconvenience.]

Learn More/

Buy Now

: CLICK HERE

Return to top.

Winslow's English-Tamil Dictionary - Hardback

It contains upwards of 1000 new words, making altogether about 37,737 words; the Tamil synonyms are now for the first time printed in both the native and Roman character, and the peculiar Sri Lanka idioms, with which the original abounded, have been altered to adapt the language to Southern India. A table of the Tamil vowels and consonants with their Roman equivalents is appended to help correct pronunciation. In its present improved form the work will be found very useful not only to Europeans learning Tamil, but to native students learning English.

Published 2003.

[Book prices are posted within the shopping cart site due to frequent fluctuating prices. Sorry for any inconvenience.]

Learn More/

Buy Now

: CLICK HERE

Return to top.

Guide to 14 Asiatic Languages (Tamil, Bengali, Hindustani, Urdu, Burmese, Siamese, Malay, Chinese, Mandarin and Cantonese, Japanese, Russian, Arabic Western and Eastern, Persian, Turkish) by Andrew Boyd - Hardback

This one book can be treasure as an Asia travel aid: Arabic, Turkish and Persian will assist the traveler along all the shores, and through most of the interior of the Middle East, from North Africa to the borders of India.

In India there are two hundred languages and many more dialects; yet the traveler will have the assurance needed if he commands a few words of Hindustani (Urdu), Bengali and Tamil.

Burmese, Siamese (Thai) and Malay will serve most of your travel needs in Southeast Asia, including the East Indies; the two forms of Chinese given in this book (Mandarin and Cantonese) will be of value not only in China, but also in Singapore and Manila; and Japanese too may be found useful in Korea and other places outside Japan proper.

While Russian can in no sense be called an Asiatic tongue, no linguistic handbook for Asia would be complete without the Russian language, which dominates the northern half of the continent, much like English permeates much of the southern Asia.

Published 1999.

[Book prices are posted within the shopping cart site due to frequent fluctuating prices. Sorry for any inconvenience.]

Guide to 14 Asiatic Languages - HARDBACK
Learn More/

Buy Now

: CLICK HERE

Return to top.

Tranquebar Tamil-English Dictionary Based on Johann Philip Fabricius's Malabar-English Dictionary - Hardback

The First Tamil and English Lexicon was published in 1779 and reprinted in 1809 under the title A MALABAR and ENGLISH DICTIONARY. This Dictionary, which contained about 9000 Tamil words with a large collection of idiomatic phrases, formed the basis of subsequent works, and is often refered to as "The Old Dictionary."

The present volume is an enlarged and much improved edition of the work on which it is based, including several new terms, meanings and phrases have also found it place in this edition, containing a collection of 11,590 Tamil primitives and 21,305 derivatives and phrases. This is an excellent choice for a Tamil-English Dictionary!

Published1998.

[Book prices are posted within the shopping cart site due to frequent fluctuating prices. Sorry for any inconvenience.]

Learn More/

Buy Now

: CLICK HERE

Return to top.

Mega LIFCO Dictionary English-English-Tamil
- Hardback

Twenty-nine chapters encompass a tremendous resource:

Distinction in Word Usage
Use of the Same Word in Different Parts of Speech
Verbs with Appropriate Prepositions and their Special Use
Appropriate Prepositions & Adverbs...and much, much more!

Published 2010.

[Book prices are posted within the shopping cart site due to frequent fluctuating prices. Sorry for any inconvenience.]

Learn More/

Buy Now

: CLICK HERE

Return to top.

A Reference Grammar of Spoken Tamil
by Harold F. Schiffman - Paperback

An expanded verson of the author's 1979 work, providing reference grammar of the standard spoken variety of Tamil, which differs from literary Tamil. Contains examples in Tamil script and transliteration. An excellent resource for studying Tamil.

Published 2006.

[Book prices are posted within the shopping cart site due to frequent fluctuating prices. Sorry for any inconvenience.]

Learn More/

Buy Now

: CLICK HERE

Return to top.

Collins Gem English-Tamil Tamil-English Dictionary - Paperback

Contains everyday words and phrases. Designed for all levels of expertise using Tamil and English—at home, school, or at work. A helpful aid for anyone who needing translation help in a handy, portable book.

Published 2011.

[Book prices are posted within the shopping cart site due to frequent fluctuating prices. Sorry for any inconvenience.]

Learn More/

Buy Now

: CLICK HERE

Return to top.

The Tamils The People, Their History, and Culture by K.S. Ramaswamy Sastri - Hardback

South India and Sri Lanka have been homelands of the Tamils, from the beginning of recorded history. The region, roughly covered by the modern states of Tamil Nadu and Kerala, with Tamil presence in Sri Lanka is noticeable from very early times. In the 19th and early 20th centuries, Tamils migrated to some British Colonies in search of work resulting in substantial Tamil populations in Malaysia, Singapore, Mauritius, Fiji and South Africa.

This publication provides an extended introduction to the Tamils by discussing the important facets that make them such a vibrant society. Arranged thematically, a glimpse is provided into their History, Culture, Politics, Language and Literature, and their social progress.

Published 2002.

[Book prices are posted within the shopping cart site due to frequent fluctuating prices. Sorry for any inconvenience.]

Learn More/

Buy Now

: CLICK HERE

The Heart of the Five Love Languages by Gary D. Chapman - Hardcover

People express and receive love in different ways. Dr. Gary Chapman reveals five specific languages of love: quality time, words of affirmation, gifts, acts of service, and physical touch.

What speaks volumes to you may be meaningless to someone else. If you express love towards others in a way they don't understand, they will not realize you've expressed your love at all.

The problem is that you're speaking different languages! The key is understanding each other's unique needs—their own unique love language. Discover which love language speaks the most to you; how you can make life more meaningful to others (using their love language)—and experiencing love in return.

[Book prices are posted within the shopping cart site due to frequent fluctuating prices. Sorry for any inconvenience.]

Return to top.

FTC Affiliate Disclosure
: If you purchase through links on this Web page,
NetResult Web Marketing
receives a commission from the sale
. You do not pay higher prices when purchasing through this site. We promote only products we believe will be of benefit to you. Your support is appreciated. Thank you.
Where is Tamil Spoken?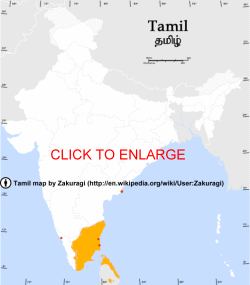 Tamil Language History
Tamil is a
Dravidian language
spoken predominantly by
Tamil people
of the Indian subcontinent. It has official status in the Indian state of
Tamil Nadu
and in the Indian union territory of
Puducherry
. Tamil is also an official language of
Sri Lanka
and
Singapore
. It is one of the 22 scheduled languages of India and the first Indian language to be declared as a classical language by the government of India in 2004. Tamil is also spoken by significant minorities in
Malaysia
and
Mauritius
as well as emigrant communities around the world...
LEARN MORE
See and Hear Tamil Culture

Theme music
from Tamil movie Pathinaaru

latest tamil song 2011 HD
Chinmayi

Ennamo Yeadho
from the Tamil movie KO (English translated lyrics_

Endhiran Irumbile oru Idhaiyam

En Uchi Mandai - Vettaikaran
Tamil Song

Ayyayo Ayyayo puduichiruku......Saamy

Ayyayo Nenju Alai by rakesh

Poongatre Poongatre
by Benny Dayal & Vuvan Shankar Raja

RAKKAMMA
- TAMIL RAP KUTHU SONG 2011 - By. Suresh Da Wun

Paiya Video Song -
Adada
HD—awesome!

Paiya
(2010) - Tamil Movie [2:32]

Tamil hits
from the movie Unnai Ninaithu

South Indian Tamil Film Song

Top Ten Tamil Actresses

TOP TEN TAMIL HEROES

Top 4 dancers in Tamil

VIJAY BEST DANCE MOVES EVER COLLECTION

Vijay & Lawrence
in Nee Illai Naan Illai - Thirumalai—absolutely awesome!

My Top Ten Tamil Songs 2010
(Released)

TAMIL SONGS PLAYLIST
(134 videos)

Tamil
Megham Dance

Tamil
Sangam
- Indian Dance Medley

Dance Performance
on a Tamil song

Sukanya & Team on Tamil song

Tamil dance remix

Tamil Dance

Tamil Dance Hits Playlist
(58 videos)

South India Travel Doc -
Part 01

South Indian Delicacies In
Chennai

Semmozhiyaana Thamizh Mozhiyaam
- World Classical Tamil Conference 2010 Theme Song penned by TamilNadu Chief Minister M. Karunanidhi with music by
A R Rahman

Thai Mannai Vanakkam
- Tamil version of Maa Tujhe Salaam

Watch Tamil movies and songs online at
RajshriTamil

A. R. Rahman


Yaakaai Thiri
from the movie Aytha Ezhuthu

Dilse (Tamil version) Nenjinile

Kannamuchi Yennada
with English subtitles

Rain Song

AR Rahman
TAMIL SONGS PLAYLIST
(84 songs)

Surya - New York
(**A R Rahman**) Tamil Songs

Chinese Girl Singing AR Rahman's Tamil Song =
Chinna Chinna Aasai

Chinna Chinna Aasai | Roja | AR.Rahman
[HD]

Watch superhit Tamil Movie
Roja
(1992) directed by Mani Ratnam starring Arvind Swamy, Madhubala, Nasser, Janakraj & Pankaj Kapur. Music directed by A.R. Rahman [2-hour movie online]

Prabhu Deva


Kalluri Vaanil

Laila Laila

First dance video of Prabhu Deva

Mukkabala
from the Tamil film Kadhalan

Mukkabala
with English lyrics

Chikku Bukku Rayile

PRABHU DEVA
Video Playlist
- over 50 videos

LOVE TRANSCENDS
THE BARRIERS OF LANGUAGE